LCDR Dan Cnossen Above & Beyond Award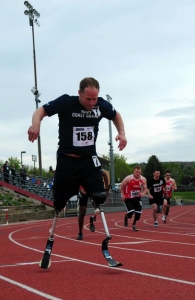 The Above and Beyond award is given to those who exemplify the spirit of the the awards namesake, Dan Cnossen, the beneficiary of the inaugural swim.  The recipient will have show that spirit either physically, emotionally and/or mentally to go above and beyond while supporting the Tampa Bay Frogman Swim and the Naval Special Warfare community.
When Dan Cnossen, a Kansas native, arrived at the US Naval Academy, he had never seen an ocean and did not know how to swim.  By the time he left in 2002 he was an accomplished triathlete.  "Life is all about extremes" he always told his friends.  On September 7, 2009, while leading his SEALs in combat in Afghanistan, LT Cnossen stepped on a land mine.  Less than four months after losing both legs, he competed in his first half marathon, finishing fourth in the wheel chair division, in freezing rain and snow.  Now a lieutenant commander, Cnossen has since gone on to become a successful Paralympic athlete competing in cross country skiing and biathlon.
Recipients
2023 – Tom & Ginny Feeks
2022 – Allison LaRochelle
2021 – Steve Swift
2020 – Stephen Corcoran
2019 – Tim Rice
2018 – Mike Wilson
2017 – Bill Bracken
2016 – Eric Smith
2015 – COL Patty Collins
2014 -The Skonicki Family
2013 – Mark Dobersch
2012 – CDR Dan O'Shea
2011 – Chris Quilty