Virtual Frogman Challenge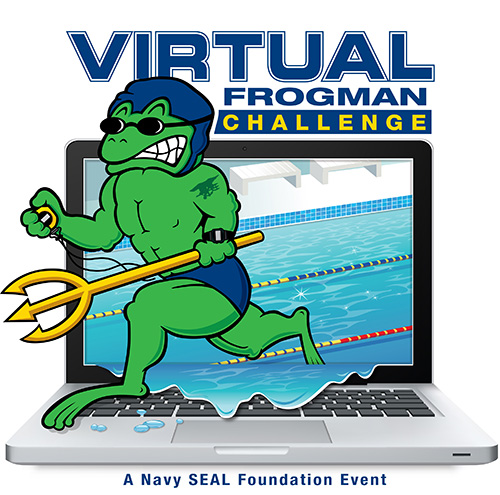 The Virtual Frogman Challenge
A Navy SEAL Foundation Event hosted by
The Tampa Bay Frogman Swim
The Tampa Bay Frogman Swim traces its roots to raising funds and awareness for a SEAL officer severely injured in September 2009 while serving in Afghanistan. Since the inaugural Jan 2010 event, we've grown from raising $34,000 with 39 swimmers, as many kayakers, and 30 onlookers to a professionally set course with over 170 swimmers, 170 kayakers and hundreds of spectators covered by local TV and various media. Fast forward to 2022, the Tampa Bay Frogman Swim, an official event of the Navy SEAL Foundation, raised over $940,000, and has raised over $6M overall..
In response to our registration filling in a matter of minutes in past years, and many disappointed potential swimmer/fundraisers, we have created the Virtual Frogman Challenge.  For $50, on an honor system, swimmers can raise funds and are eligible to receive a t-shirt knowing their efforts are directly contributing to our overall mission.
We are looking for individual and swim team partners that are interested in combining swimming with community service to join us and support the Navy SEAL Foundation.
We ask that each individual set a fundraising goal of $500.  (We understand that every individual may not be able to make such a challenging fund raising goal but in order to qualify for a t-shirt a minimum of $250 must be raised).
Teams and individuals can register HERE, and also set up custom fundraising pages.
These Frogman Swim t-shirts are highly sought after items…but the real reward is service to a worthy cause and providing a challenging goal to work towards. Individual efforts are not confined to swimming a 5K or 10K but may be customized to almost any worthy swimming effort. Channel Swims, Marathon Swims, or other swimming challenges are welcome.
Register today and swim for the Navy SEALs and help us "never leave a man behind".  Please visit www.navysealfoundation.org to learn more about this very special cause.
Questions regarding the Virtual Frogman Swim event can be directed to [email protected]